Kingsland, A Great Place To Live and Visit!

Kingsland is a quiet, comfortable community stretching along the shores of the Colorado and Llano Rivers at the point where they join to form the beautiful Lake LBJ. Geographically, Kingsland is situated in one of the most interesting and naturally beautiful areas of Texas and offers year-round activities such as camping, hiking and hunting. The rivers and Lake LBJ are perfect for all types of water sports, including fishing, boating, water skiing and swimming.
For regular annual visitors, such as our "Winter Texans", there is a variety of activities, including parties, dinners, events and golf tournaments. Summer visitors enjoy the Aqua Boom celebration, a July 4th extravaganza culminating in a spectacular fireworks display over Lake LBJ.
Springtime here is like no other place in Texas. Roadways, fields and hillsides are covered lavishly in a riot of color?blue, red, yellow, white and green wildflowers, the crowning glory of the Texas Hill Country. Thousands converge on the Kingsland area to catch a breath-taking glimpse of the annual blooming of Bluebonnets, Indian Paint Brush, Mexican Hat and other wildflowers.
We're also close enough to metropolitan areas for those desiring that proximity. A mere hour's drive from Austin or a bit more from San Antonio, one can have big-city benefits and the end-of-day pleasures of the quiet country life.
Kingsland. It's where the living is easy. Contact Ron today about available real estate and homes for sale in Lake LBJ & Kingsland, Texas!
.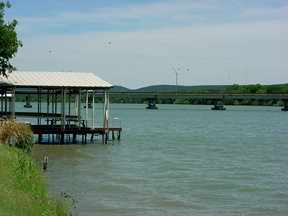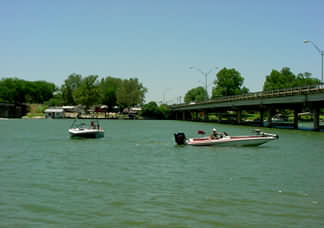 TOURISM INFORMATION
Location
Kingsland is nestled in the Texas Hill Country. Although located mostly in Llano county, it also spills over into Burnet county. It's population is estimated to be more than 10,000 people. A perfect hideaway on Lake LBJ, Kingsland is 66 miles from Austin. The terrain consists of gently rolling peaks and valleys made up of limestone, sandstone and granite formations and outcroppings adorned with majestic oak, pecan, juniper and mesquite trees. Maps >>
Climate
The average annual temperature is 64.7 degrees. Spring - 65.9, Summer - 80.6, Autumn - 66.4 and Winter 46.1 degrees. Average rainfall is 26.6 inches and average snowfall is 1.6 inches. Demographics & Climate >>
Recreation Facilities
Located on the banks of constant-level Lake LBJ, Kingsland is a haven for outdoor recreation. Camping facilities, bike riding, fishing, golf and hunting are all available in the Kingsland area. All types of lodging are available. Area Lodging >> Lake LBJ Map >> Boating Services >> Golf >>
History
The Kingsland area is rich in history. Packsaddle Mountain was the site of the the last major Indian battle in the area. Explore the historic sites in the area. Historic Sites >>
Shopping & Dining
Kingsland offers a variety of shopping and dining opportunities. Arts & Crafts >> Shopping >> Dining >>
Community Facilities
Kingsland hosts an excellent library, a fully-staffed medical clinic, nursing homes, an assisted living facility, a community center, a senior center and churches.
Medical >> Community Services >>
Make the Move to Kingsland!
Kingsland is located just an hour northwest of Austin or a hour and half north of San Antonio, perfect for those who wish to be near major cities and transportation hubs. You can enjoy the hustle and bustle of the big city life with its amenities, then return to the safe, quiet and serene setting of Kingsland. Our area attracts people from all over to enjoy the mild climate, summer and winter activities, beautiful scenery, and friendly people in a small town environment.
Beautiful Lake LBJ is perfectly suited for all types of water sports, including fishing, boating, water skiing and swimming.
Local Government
| | |
| --- | --- |
| Type: | Unicorporated |
| Police Department: | County |
| Fire Department: | Volunteer, Number: 15 |
| Pieces of Fire Equipment: | 8 |
| Fire Insurance Protection Class: | 7 |
| Service Provided by County: | Yes |
| City Industrial Team: | Yes |
| Chamber of Commerce: | Yes |
| Economic Development Department: | Yes |
| County Annex: | Yes |
Transportation
The nearest Interstate is I.H. 35 (47 miles), nearest major higway is HWY 281 (9 miles), and the nearest major airport is Austin-Bergstrom International (66 miles). There is a local airport with a 3,700 ft. runway, and Horseshoe Bay Airport with a 6,000 ft. runway, both within 20 miles. Local transportation is availble to and from airports and area locations. All package shipping services are available at Pac - Ship & More.
Medical Facilities
There are six doctors, two dentists, one nursing home, several assisted living facilities and home health care providers in Kingsland. Two hospitals are within 25 miles - Llano Memorial Hospital in Llano and Seton Highland Lakes in Burnet.
Schools
Kingsland's public schools are served by the Llano Independent School District. There is a Kindergarden - 5th grade campus, Packsaddle Elementary, located in Kingsland. Grades 6 - 12 attend campuses in Llano. Areas of Kingsland in Burnet County attend Marble Falls Independent School District. Kingsland also has a Head Start program for pre-schoolers. There is a private Christian Academy located in Kingsland and several in Marble Falls (12 miles).